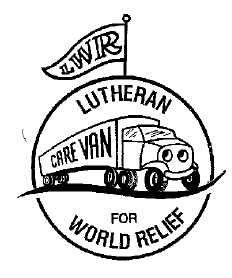 November 2-3, 2018
Friday 10 a.m. – 2 p.m. and Saturday 9 a.m. – 11 a.m.

Find the location and drop off time – Locations -Coordinators 2018 r1 (pdf)
Please call the church to verify the time so there will be someone there to help you.  The times may change according to the church. 
A Meaningful Way to Make a Difference
Lutheran World Relief Kits of Care are a perfect way for you to gather a group of people you know and turn ordinary items into extraordinary gifts. You can help people dealing with some of life's most difficult situations –the aftermath of earthquakes and floods, fleeing home to escape violence, and living in extreme poverty. Partner with us and energize your congregation for global good.
What You Can Do
We can't control when disasters strike and we can't end poverty overnight. But there are things we can do now to help people around the world reach their full potential. Learn how simple items can transform lives and how you can too.
Choose – a type of kit
Collect – items for the kits and money to help ship kits overseas
Pack – the items and send to the warehouse; or find a local collection site
Share – photos and videos of your work on your social pages with#KitsofCare. Your posts can encourage others to get involved, too!
LWR Quilts & Kits convey a priceless message of love and commitment to people in desperate need. First and foremost, recipients use their LWR Quilts to shield against the cold and rain, and for warm bedding. But their versatility also makes Quilts useful as simple tents, floor coverings, or a wrap to hold a baby on a mother's back. In 2017, Lutheran World Relief delivered more than $14 million worth of Quilts and Kits to 576,669 beneficiaries in 21 countries. Shipping costs LWR about $2.25 per Quilt. Please give to the Quilt & Kit Shipping Fund, which pays for the shipping of donated Quilts and Kits.
If you are interested in the assembly instructions for quilts and kits you may request a copy of these pamphlets by calling 800-597-5972 or logging on to the https://lwr.org website.
If you have a question or need labels, don't hesitate to e-mail Julie Tyler at jtyler@mid-southlcms.com or give her a call (1-866-373-1343 toll free).
The CARE-VAN mailing will be sent to participating congregations the mid part of September.  The CARE-VAN location sites will be listed in the October Encourager.
The work of our hearts and hands is an immeasurable blessing to families in need around the world!