2020 Care Van Report
2020 has been a year of challenges, but that didn't slow down our congregation ladies from stepping up to the plate! Even with several congregations/quilters unable to meet due to COVID-19 we had another great ingathering.
At this year's Lutheran World Relief CARE-VAN ingathering the Mid-South District once again had seven drop sites where we collected handmade quilts, school kits, personal care kits, baby care kits, and fabric kits. Our drop sites included Christus Victor, Knoxville, TN.; Cross of Christ, Chattanooga, TN.; Our Savior, Nashville, TN.; Immanuel, Memphis, TN.; First, Fort Smith, AR.; Grace, Little Rock, AR.; and Salem, Springdale, AR.
At the time of this report (12/21/2020), the top three quilt-producing congregations that dropped off their work at an LWR CARE-VAN ingathering site were Zion Lutheran Church, Alexander, AR (195 quilts), St. Paul Lutheran Church, Gillett, AR (116 quilts), and Faith Lutheran Church, Hot Springs Village, AR (110 quilts). A total of 2,025 quilts (580 were from several area ELCA congregations) were donated.
To date we had 42 congregations participate (7 ELCA), collecting over $4,400 for shipping costs. We also collected 2,017 personal care kits, 64 fabric kits, 904 school kits, 433 baby care kits, and 85 face masks were also donated. The CARE-VAN trailers were loaded up with 621 boxes (weighing approximately 13,731 pounds!) of offerings from District congregations for Lutheran World Relief. Way to go Mid-South District!
Many of the congregations' efforts are coordinated by LWML groups and longstanding quilting groups in the congregations. They participate in this effort to share the love of Christ in a personal way. The tireless efforts of those who share their talents and the generous contributions of many make this a successful ingathering.
Thank you to all who participated in this year's annual LWR CARE-VAN drive!
— Julie Tyler, Mid-South District CARE-VAN Coordinator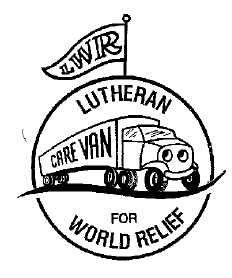 ---
November 6-7, 2020
Friday 10 a.m. – 2 p.m. and Saturday 9 a.m. – 11 a.m.

Find the location and drop off time – 2020 Care Van Location r 1 (pdf)
Please call the church to verify the time so there will be someone there to help you.  The times may change according to the church. 
A Meaningful Way to Make a Difference
Lutheran World Relief Kits of Care are a perfect way for you to gather a group of people you know and turn ordinary items into extraordinary gifts. You can help people dealing with some of life's most difficult situations –the aftermath of earthquakes and floods, fleeing home to escape violence, and living in extreme poverty. Partner with us and energize your congregation for global good.
What You Can Do
We can't control when disasters strike and we can't end poverty overnight. But there are things we can do now to help people around the world reach their full potential. Learn how simple items can transform lives and how you can too.
Choose – a type of kit
Collect – items for the kits and money to help ship kits overseas
Pack – the items and send to the warehouse; or find a local collection site
Share – photos and videos of your work on your social pages with#KitsofCare. Your posts can encourage others to get involved, too!
LWR Quilts & Kits convey a priceless message of love and commitment to people in desperate need. First and foremost, recipients use their LWR Quilts to shield against the cold and rain, and for warm bedding. But their versatility also makes Quilts useful as simple tents, floor coverings, or a wrap to hold a baby on a mother's back. In 2019, Lutheran World Relief delivered more than $13.2 million worth of Quilts and Kits to 581,456 beneficiaries in 24 countries.
Shipping costs LWR about $2.25 per Quilt. Please give to the Quilt & Kit Shipping Fund, which pays for the shipping of donated Quilts and Kits. You can also encourage your congregation to support your quilt or kit ministry by donating to LWR's Quilt & Kit Shipping Fund https://lwr.org/donate/shippingfund to ensure that LWR can continue working with partners around the world to deliver your gifts. Those funds, combined with the generosity of donors, ensure LWR has the resources needed to move these items around the world. You can help!
If you are interested in the assembly instructions for quilts and kits you may request a copy of these pamphlets by calling 800-597-5972 or logging on to the https://lwr.org website.
If you have a question or need labels, don't hesitate to e-mail Julie Tyler at: jtyler@mid-southlcms.com  or give her a call (1-866-373-1343 toll free).
The CARE-VAN mailing will be sent to participating congregations in mid to late September. The CARE-VAN location sites will be listed in the October Encourager.
The work of our hearts and hands is an immeasurable blessing to families in need around the world!