Bridge City Celebrates Launch and New Bus Ministry
After many months of getting to know the people in its surrounding community, Bridge City Community Church hosted its launch service on August 17 under the leadership of Pastor Josh Woodrow. A mission plant of First Lutheran Church in Chattanooga, Bridge City is also introducing a major ministry resource to help connect with the young people in its neighborhood of Alton Park. Called The Reconciliation Bus,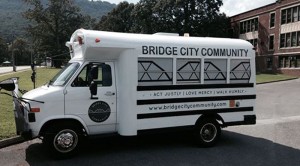 the resource is a small, refurbished school bus that offers kids a safe means of transportation to and from the local community center for various Bridge City Community Church services and activities. In a community where gang violence is all too common, The Reconciliation Bus will be a welcomed alternative to walking for many kids. Funding of The Reconciliation Bus was definitely a "District-wide" effort—and beyond! Through the broad reach of social media and a vast network of friends across the Mid-South District, individuals and congregations came together with generous support for this great project. The Reconciliation Bus is an awesome example of God working through the hearts of many to orchestrate His plan!
WEBSITE: bridgecitycommunity.com
FACEBOOK: facebook.com/bridgecitycommunity