Bridge City's Special Gift to Local School Families
Since launching worship services last summer in the recreation center of a Chattanooga inner city neighborhood, Bridge City Community Church has found many ways to be the hands and feet of Christ to local residents.  From operating a bus that transports local kids to church services and activities to partnering with a local elementary school, Bridge City seeks every opportunity it can to connect with its community.  Recently, the church hosted a special recognition event for children of its partner school, Calvin Donaldson Environmental Science Academy.
The Let Freedom Ring banquet was a special night set aside for three primary purposes: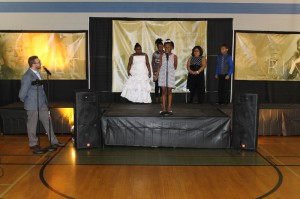 To recognize the educational achievement of neighborhood students
To hear presentations by Calvin Donaldson Academy 5th graders remembering the dedication of
individuals who fought for freedom and rights for all Americans – no matter the color of their skin
To celebrate the community of south Chattanooga through the retelling of stories and a shared meal
Bridge City was able to host the event through a partnership with the school, the recreation center where the church worships, and two local neighborhood associations.  In his summary of the event, Pastor Josh Woodrow shared, "Although the event was not required, nor credit for the assigned reports, we had almost every single student show up with their parents or guardians. The greatest achievement of the night, though, was the excitement, pride, and sense of accomplishment on the part of the students themselves who could not wait to take their place in front of the microphone."
The event even captured coverage on a Chattanooga TV news segment titled "What's Right with Our Schools."  Pastor Josh and the Bridge City Community Church family look forward to hosting another Let Freedom Ring celebration during the next school year.  What a great tradition to share with their community!