When Lutheran Church Extension Fund (LCEF) introduced a new investment option for kids in 2013 called the Young Investors (Y.I.) Club, the Mid-South District responded with much excitement. But one ministry embraced the program with an exceptional amount of enthusiasm. Immanuel Lutheran School in Memphis saw the Y.I. Club as an opportunity not only for teaching kids about managing financial gifts, but also for fellowship and leadership.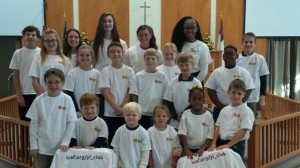 Many students at Immanuel have become "young investors" through the Y.I. Club by opening an account with LCEF and earning interest. But beginning in 2015, Immanuel Lutheran School's Y.I. Club members will enjoy special events designed to teach them about money and stewardship. Y.I. Club members at Immanuel also receive special t-shirts that they will be invited to wear on designated "Young Investor Days" – a welcomed alternative to their regular school uniform!
Immanuel's principal, Todd Baringer, knows the importance of teaching children about money management and feels the Y.I. Club is a great tool to encourage this critical skill. Baringer had the great idea of providing Y.I. Club t-shirts and hosting special events to add an element of fellowship and fun to the program. We applaud his creativity and enthusiasm!
Want to know more about LCEF's Young Investors Club? Visit lcef.org or call 800-843-5233.
LCEF is a nonprofit religious organization; therefore, LCEF investments are not FDIC-insured bank deposit accounts. This is not an offer to sell investments, nor a solicitation to buy. LCEF will offer and sell its securities only in states where authorized. The offer is made solely by LCEF's Offering Circular. Investors should carefully read the Offering Circular, which more fully describes associated risks. LCEF StewardAccount access features provided by UMB Bank n.a. StewardAccount is not available to investors living in South Carolina.