Salem Lutheran Church, an Anglo congregation in Springdale, AR, has been blessed through a growing partnership with a Latino mission congregation, Cristo Para Todos. Under the leadership of Rev. Tardeli Voss and Rev. Mark Krause, the two congregations agreed to form a new congregation in January 2014, called Salem Lutheran Ministries of Northwest Arkansas. This merger has created a new level of excitement as we work together to become a "Multi-Ethnic Family of Faith Sharing Christ's Love into our Community and to the World."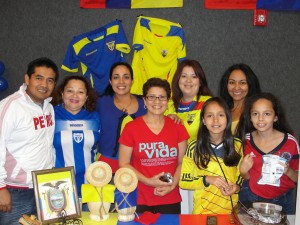 Salem Lutheran Ministries is a team based ministry with a board of directors which administers the different ministries of this partnership: Salem Lutheran Church (English), Cristo Para Todos (Spanish), Salem Lutheran School (pre-school), Project Compassion (social ministry), Baltic Mission Society (a venture in world missions), and the development of The Mission Training Center (future). In addition, Salem Lutheran Ministries is currently staffing the Mid-South District's "Rock House" ministry on the campus of Arkansas University in Fayetteville.
Each of these ministries work together to support a common mission strategy of equipping disciples to make other disciples for the purpose of connecting people to Jesus for eternity. God has blessed us with a partnership in the Gospel that includes over sixteen European, Latino, and South Pacific cultures. It is truly evident that the Lord is bringing the nations to our community.
When Pastor Voss accepted a call to serve a mission congregation in Brazil, the Spanish speaking members of our congregations became concerned that many of the Spanish speaking members would leave Salem Lutheran Ministries. The Apostle Paul's words written to the Christians in Philippi became our source of strength and courage during the vacancy. However, through the partnership of the Mid-South District, Concordia Seminary in St Louis, and the leadership team of Salem Lutheran Ministries, great strides in this Church Planting effort has seen a growth in the multi-ethnic ministries. St Paul wrote: "I thank God every time I remember you. In all my prayers for all of you, I always pray with joy because of your partnership in the gospel from the first day until now, being confident of this, that he who began a good work in you will carry it on to completion until the day of Christ Jesus." (Philippians 1:3-6 NIV)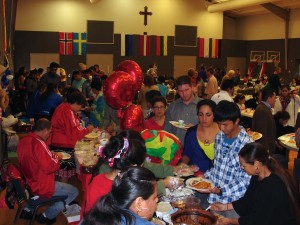 We give thanks to God with great joy that our Latino ministry continued to grow during the vacancy. The Anglo and Latino leadership stepped up in many ways to keep the ministry going. We rejoice that the Lord has called Rev. Brandon Martin and his family to join us in our Gospel partnership as our bilingual associate pastor. Pastor Martin served in Central and South America as a teacher and missionary before returning to the United States. For the past five years, he served as an associate pastor in an Anglo congregation in Hickory, NC and was the director of The Bridge, an outreach ministry to the Hickory, North Carolina Latino community.
We are thankful for the partnership we have with the Fayetteville Circuit and the Mid-South District in this Church Planting effort, as we reach out to the greater community with the Gospel of Jesus Christ. We pray that our partnership will become stronger as God allows us to develop the ministries that He has given to us, especially with our future plans to start a Mission Training Center for northwest Arkansas.
Photos from Festival of Nations.
Contributed by ~ Brandon Martin
Pastor, Iglesia Luterana Cristo Para Todos
Associate Pastor, Salem Lutheran Ministries