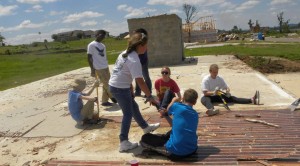 "Free to Serve" Youth Help With Central Arkansas Tornado Relief Work
-Ed Mell
The West Region Youth of the Mid-South District LCMS held a "Free to Serve" Youth Servant Event for both Junior and Senior High Youth July 3rd through July 6th (Thursday evening through Sunday morning). The Youth Servant Event was hosted by Christ Lutheran Church in Little Rock, Arkansas. The theme "Free to Serve", based on Galatians 5:13, was the platform for the youth to explore how Christ's grace gives them freedom in all aspects of their lives and empowers them to have compassion for others. The youth came together for a weekend of serving the community by participating in hands-on service projects, which focused on helping with the tornado relief work in Central Arkansas, and for a weekend of Christian fellowship through bonfires, games, worship, and a special 4th of July celebration.
Congregations represented at the Youth Servant Event and/or that helped with the Central Arkansas tornado relief work included: Christ Lutheran Church, Little Rock, AR; Grace Lutheran Church, Mountain View, AR; Immanuel Lutheran Church, Memphis, TN; Peace Lutheran Church, Conway, AR; St. John's Lutheran Church, Lafe, AR; St. John's Lutheran Church, Stuttgart, AR; St. Luke's Lutheran Church, Wisconsin Rapids, WI; Zion Lutheran Church, Avilla, AR.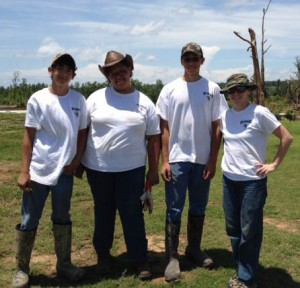 51 youth, adult leaders, and other volunteers met at Peace Lutheran Church in Conway, AR on Friday morning ready to work. After a brief orientation and loading tools into vehicles, the group headed to The Plantation subdivision in Mayflower, AR. Normally, it's a beautiful neighborhood with a picturesque setting along the Arkansas River. After the tornado, it's now one of the most heavily damaged areas in that community. The team of 51 volunteers divided into three smaller teams to tackle the various work site assignments. One work site involved demolishing the rest of a house severely damaged by the tornado and moving the debris to the curbside. Armed primarily with sledge hammers, pry bars, hammers, shovels, rakes, wheelbarrows, and lots of energy, the team proceeded to work and work and… Now it just so happened (meaning God had a plan) that the lot next door had already been completely cleared and an excavator had been left on the lot. A man pulled up with a flat-bed truck to load the excavator and noticed all the volunteers working on demolishing the house by hand. After a few brief conversations, he called his boss and asked if it was okay if he helped take down the rest of the house with the excavator. The rest, as they say, is history. The homeowners had come by earlier to see how things were going. The youth and leaders visited with this family and then gathered around them and prayed with them. What's that word again? Compassion.
Another team went to a work site in The Plantation subdivision and removed debris from and around a large pond behind a house. Cultivators were very handy for snagging debris from the pond. A lot of debris was pulled from the pond around the shoreline and put into piles to be burned. A baby shoe and several baby toys were found and left on the site where the homeowner is already rebuilding. These personal belongings could have come from anywhere. They also gave the team a moment to pause and reflect on what a special opportunity God had given them to help restore people's lives through the work that was being done. Yet another team went to a work site in the same subdivision where they used long-handle scrapers, pry bars, and hammers to remove tile and hardwood flooring from the concrete slab of a house. This was really hard work. They also picked up debris and moved it to the curbside.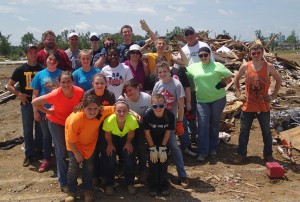 Saturday was another big work day. It was spent serving the community of Vilonia, where people's lives were also significantly impacted by the tornado. Most of the businesses in Vilonia were destroyed and a number of people have lost their jobs. The entire team of volunteers spent the day working at the old Dollar General location. The only thing that remains there now is a concrete slab. The team removed debris from the lot to the roadside. But that's not the whole story. It was a long way from the back lot to the roadside and everything was being moved by hand. There was a marsh-like ravine across the lot, so wheelbarrows were not a viable solution. Later, it was learned that someone in the group had prayed for a four-wheeler and a trailer. Well, you guessed it. A man, who had driven by several times and noticed the group working, stopped by and said he would go home and get his four-wheeler and trailer so they could use it the rest of the afternoon. Compassion seems to be contagious when God is at work. The youth and leaders were a hard-working group and did an outstanding job the entire weekend. So Saturday afternoon included a stop by Sonic in Vilonia for some well-deserved cold drinks, which was also a way to help support the local economy.
God blessed the weekend Servant Event with awesome weather. After raining earlier that week, the group had several noticeably cooler days during which to work. The Servant Event was also used as an opportunity to promote the World Changers Young Investors Club through the Lutheran Church Extension Fund, since eligible youth can earn a $25 Extra Credit Award for 10 service hours within their church, school, or community.
Here's one final thing about this weekend of serving that was a bit different. The week before, a man called saying his pastor had encouraged folks at church Sunday to come to Conway to help the people impacted by the tornadoes in Central Arkansas. He wanted to come but mentioned he was "visually impaired". He was assured there was work he could do and was encouraged to come. He came. When asked to complete the registration forms, he couldn't see any of the words, so the forms were completed for him. His hand was held on the line where his signature was needed. Get ready because we're all about to learn something here. God does some of His best work in situations like these. This gentleman fit right in while working throughout the weekend and didn't miss a beat. He had a great attitude and was a joy to be around. He was humble and generous in serving. You could tell that his service came straight from his heart because of his love for Jesus. Freedom in Christ is to be used as an opportunity to serve each other in love. His actions, as well as the actions of our youth, reflected this freedom found in God's grace. May we always remember that Jesus, the Savior of all humanity, made Himself a servant and that we, as His followers, are to do the same.
"My friends, you were chosen to be free. So don't use your freedom as an excuse to do anything you want. Use it as an opportunity to serve each other with love." Galatians 5:13 CEV