St. John's has a long history of active youth and we are still going strong!   This year brings new opportunities, with as many as half of our teens being new believers – two were baptized this summer! Now THAT's exciting news!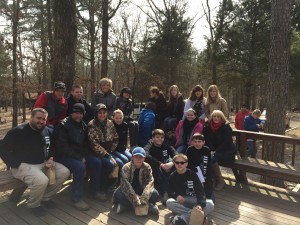 Our youth group events are scheduled quarterly – each quarter including a rotation of servant event, fun night and Bible study/planning meeting. Most attend Sunday school each week as well as weekday school on Wednesdays. Our Senior High students meet with our pastor at the local ice cream shop to chill and discuss a chosen topic each month. Junior High meet with me to focus on life skills and current events.
Servant Events
For Christmas, the youth chose to adopt a family, buying gifts and clothing for two young children in Greene County through local schools. They also had a group of 30+ (including several parents) who went Christmas caroling through the streets of Lafe and visited shut-ins. Summer projects included helping purchase and pack over 400 grocery bags of food for our summer outreach backpack program and tornado relief in central Arkansas.
Fundraising
We are working hard to raise money for the National Youth Gathering next summer. The youth have two major fundraisers per year – a candlelight dinner and silent auction mid-February and a pork steak dinner and silent auction in September. The youth help prepare food, decorate the fellowship hall, ask for and set out auction items. They also take table orders and serve as waiters and waitresses – all tips go toward the NYG. These events often include people from our congregation and surrounding communities, serving as many as 300 people.   The time spent together builds relationships between the youth as well as parents and youth leaders.
Fun Nights/Community Building
Sometimes we just need time to chill, to just hang out. Several families donated items for a "Youth Area" in our church basement. We have been given a pool table, ping-pong table, and lots of furniture to create a space to gather after meetings and church events, or whenever schedules allow. We try to go out for pizza, bowling, occasional movies (we discuss later during Sunday school), and video game nights at someone's home. We recently attended the Linkt Mid-Winter retreat at Petit Jean –many of our youth were first timers. What a joyful weekend we had with our brothers and sisters in Christ!
God has blessed St. John's with a "children and youth" focused congregation, knowing that youth are not just the "future" of the church, but the "now." We thank God for their support, encouragement and inclusion as well as ask Him to continue to bless and equip us to meet the needs of each and every youth.
Contributed by
Tessa Brasher
DCE at St. John's Lutheran Church
Lafe, Arkansas