An annual Haiti Night Celebration is held each year to celebrate recent accomplishments, thank our volunteers and supporters and provide an update on the feeding programs and the current situation in Haiti at these events.
This year's event was held at Emmanuel in Hermitage, TN on August 7.  Thank you to everyone that made it an amazing night thanking God for all His blessings.
• Started in 1999 with one school and 42 children
• Last year provided over 3.3 Million meals
• Expecting to feed 104 schools and 20,680 meals each day in the 2015-16 school year.
• Malnutrition is the leading death of children in Haiti. About 67% of the population goes without food for days.
• 50% of the children we interview have had a plantain or nothing since lunch the previous day at school
• In a country of 10 million, about 65% of people in Haiti practice Vodou.
• Vodou is the Official Religion of Haiti
• Christianity is growing and 95% of the children in our schools believe in Christ as their Savior.
• 60-70% of the children's parents come to faith in Jesus as their God and Savior as well.
• Cost $0.24 per meal. Cost has decreased the past two years – Thanks be to God!
• Haiti is the poorest nation in the Western Hemisphere
Thank you for blessing the children with your support!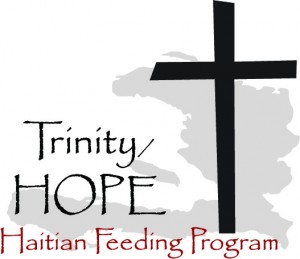 Trinity/Hope supports dozens of churches and schools in Haiti, feeding children with literally millions of meals.  This night's event the group raised $3950 – enough money to purchase over 16,000 meals for hungry children in Haiti.