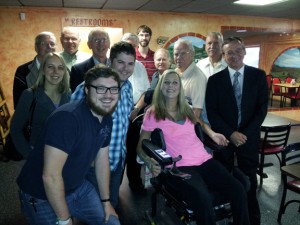 Bethany recently joined President Paavola and the Fayetteville circuit pastors and church professionals for lunch in Pea Ridge, AR after the circuit conference on September 16th. As many of you are aware, Bethany was involved in a near fatal car accident on September 7, 2010. Due to the injuries suffered she has been a total care quadriplegic.
Bethany's had a very long road to recovery but God continues to work miracles through her every day. She is currently receiving therapy 3 days a week through Destination Walk Neurological Recovery and Education Center which specializes in spinal cord and brain injury patients. Bethany can feed herself and recently, for the first time, put make-up on by herself. Praise be to God!
Rev. Duncan Cox and his family are tremendously grateful for the outpouring of support they've received during this journey. They, along with The Mid-South District, thank you for your kind and overwhelming response to their need.
Please continue to pray for Bethany's continued healing and total recovery and, if you are able to contribute to the Bethany Cox fund set up through the District Office, please send your check noted "Bethany Cox Fund" to:
The Mid-South District, LCMS
1675 Wynne Road
Cordova, TN 38016
Donations by credit card can be completed online, please click on the video of Bethany at one of her therapy sessions to see her progress.